Spanish Mountain Gold Ltd. ("the Company") (SPA-TSXV) is pleased to announce details of assay results received from drill holes completed on the Spanish Mountain gold project in southern central British Columbia this year. Twenty NQ and HQ diameter holes were drilled for exploration, geotechnical and metallurgical purposes. All exploration holes intersected gold mineralization that confirm or extend the known mineralization up to 350 m from the current limits of the Main and North zones.

Significant Drillhole Intercepts

Highlights of assay results include:
26.50 metres (m) grading 1.18 grams per tonne (g/t) gold including 2.25 m grading 5.06 g/t gold in Hole 10-DDH-912 drilled 150 m west of the Main Zone
29.00 m grading 1.21 g/t gold including 13.00 m grading 2.25 g/t gold in Hole 10-DDH-918
119.50 m (starting at 5.50 m down the hole) grading 0.74 g/t gold including 27.00 m grading 1.50 g/t gold and a second zone of 25.50 m grading 1.56 g/t gold in Hole 10-DDH-902.
42.15 m grading 1.15 g/t gold in Hole 10-DDH-915.
76.00 m grading 0.87 g/t gold in Hole 10-DDH-906.
82.00 m grading 0.62 g/t gold including 12.50 m grading 1.04 g/t gold in Hole 10-DDH-911
Tables 1 & 2 presenting significant assay intervals and a drill hole location map (Fig. 1) are appended to this news release.

Discussion of Results and PEA Update

The exploration holes intersected gold mineralization in areas to the west of the Main zone and north and east of the North Zone. The new intercepts confirmed or extended the known mineralization up to 350 m from these zones. Of particular note is Hole 10-DDH-912 which intersected 26.5 m grading 1.18 g/t gold in an area 150 m west of the Main Zone. The Company is encouraged by these results which would suggest that areas of potential exist west of the Main Zone and around the North Zone. Further drilling is warranted in these areas.

Brian Groves, President and CEO, stated: "The exploration drilling was successful in demonstrating that the potential exists to expand the areas of mineralization to the east and west. Additional drilling will be done in 2011 to better define the continuity of mineralization in these areas."

The holes completed for geotechnical and metallurgical purposes were drilled within the Main and North Zones of gold mineralization. The results are consistent with those from previous drilling within the known mineralized areas and will be included in the PEA for the Spanish Mountain gold project. The economic model for the project will be released in November 2010. The full report is scheduled for release in December 2010 and is expected to incorporate tailing facilities that do not impact any lakes or streams in the project areas.

All core samples were fire assayed at ALS Chemex Laboratory in Vancouver, BC. Stuart Morris, P. Geo, the Company's Vice-President, Development Geology is a qualified person as defined under National Instrument 43-101 and has reviewed the contents of this news release.

About Spanish Mountain Gold

Spanish Mountain Gold Ltd is focused on the responsible development of its flagship Spanish Mountain gold project in southern central British Columbia. The Company has no debt and owns 100% of all four gold properties located in British Columbia. Additional information about the Company is available on its website: www.spanishmountaingold.com

On Behalf of the Board,
SPANISH MOUNTAIN GOLD LTD

Brian Groves

Brian Groves.
President and CEO


Contact:
Brian Groves
(604) 601-3651

info@spanishmountaingold.com
www.spanishmountaingold.com

or
B&D Capital Partners
(604) 685-6465

This news release contains forward-looking information, which involves known and unknown risks, uncertainties and other factors that may cause actual events to differ materially from current expectation. Important factors - including the availability of funds, the results of financing and exploration activities, the interpretation of drilling results and other geological and metallurgical data, risks associated with the estimation of mineral resources and the geology, grade and continuity of mineral deposits, project cost overruns or unanticipated costs and expenses - that could cause actual results to differ materially from the Company's expectations are disclosed in the Company's documents filed from time to time on SEDAR (see www.sedar.com). Forward-looking statements can often be identified by the use of words such as "plans", "expects", "is expected", "scheduled", "estimates", "forecasts", "intends", "anticipates" or "believes" or variations (including negative variations) of such words and phrases. Readers are cautioned not to place undue reliance on these forward-looking statements, which speak only as of the date of this press release. The company disclaims any intention or obligation, except to the extent required by law, to update or revise any forward-looking statements, whether as a result of new information, future events or otherwise.

The TSX Venture Exchange does not accept responsibility for the adequacy or accuracy of this release.
Table 1: Significant Exploration Results—Spanish Mountain Gold Project
Hole
From
To
Length
(m)
Au
Ag
(g/t)
Size
Area
Purpose
10-DDH-901
273.5
290.0
16.5
0.87
0.86
NQ
90m West of Main Zone
Exploration
10-DDH-906
178.0
220.0
42.0
0.41
0.59
NQ
40m Southwest of North Zone
Exploration
10-DDH-906
242.5
318.5
76.0
0.87
0.90
NQ
40m Southwest of North Zone
Exploration
including
246.3
247.0
0.8
30.40
1.80
NQ
294.8
295.5
0.8
13.70
26.80
NQ
301.5
302.3
0.8
12.00
5.90
NQ
10-DDH-907
138.0
193.0
55.0
0.43
0.87
NQ
100m Southwest of North Zone
Exploration
including
162.0
178.0
16.0
1.06
0.48
NQ
176.5
178.0
1.5
7.17
0.60
NQ
10-DDH-910
148.2
171.0
22.8
0.46
0.45
NQ
350m West of Main Zone
Exploration
10-DDH-910
286.9
326.0
39.1
0.43
0.55
NQ
350m West of Main Zone
Exploration
including
286.9
291.7
4.8
2.27
0.67
NQ
10-DDH-912
343.5
370.0
26.5
1.18
0.37
NQ
150m West of Main Zone
Exploration
including
357.3
359.5
2.3
5.06
1.02
NQ
10-DDH-913
397.5
300.8
3.3
0.98
0.25
NQ
15m Northwest of North Zone
Exploration
10-DDH-914
118.0
137.5
19.5
0.45
0.42
NQ
290m East of North Zone
Exploration
10-DDH-916
46.0
98.5
52.5
0.31
1.17
NQ
110m Southeast of North Zone
Exploration
Table 2: Significant Metallurgical & Geotechnical Results—Spanish Mountain Gold Project
Hole
From
To
Length
(m)
Au
(g/t)
Ag
(g/t)
Size
Area
Purpose
10-DDH-899
228.2
230.0
1.8
1.03
1.10
HQ
Main Zone
Metallurgical
10-DDH-900
297.5
300.5
3.0
2.21
1.35
HQ
Main Zone
Metallurgical
10-DDH-902
5.5
125.0
119.5
0.74
1.06
HQ3
Main Zone
Geotechnical
including
5.5
7.5
2.0
4.16
3.00
HQ3
44.0
71.0
27.0
1.50
0.73
HQ3
10-DDH-902
166.0
191.5
25.5
1.56
0.85
HQ3
Main Zone
Geotechnical
including
172.0
173.5
1.5
12.30
5.00
HQ3
10-DDH-902
244.5
249.3
4.8
1.22
0.66
HQ3
Main Zone
Geotechnical
10-DDH-904
64.0
67.5
3.5
1.45
1.04
HQ
North Zone
Metallurgical
10-DDH-904
162.5
224.6
62.1
0.40
0.72
HQ
North Zone
Metallurgical
10-DDH-911
55.5
137.5
82.0
0.62
0.49
HQ3
East boundary of Main Zone
Geotechnical
including
89.5
102.0
12.5
1.04
0.74
HQ3
118.5
120.0
1.5
15.70
1.20
HQ3
10-DDH-911
301.0
355.0
54.0
0.53
0.69
HQ3
East boundary of Main Zone
Geotechnical
including
335.5
340.0
4.5
1.62
1.27
HQ3
10-DDH-915
44.0
86.2
42.2
1.15
0.83
HQ3
Northeast boundary of Main Zone
Geotechnical
10-DDH-915
208.5
264.5
56.0
0.34
0.75
HQ3
Northeast boundary of Main Zone
Geotechnical
including
249.5
254.0
4.5
1.97
1.13
HQ3
10-DDH-918
32.5
61.5
29.0
1.21
0.96
HQ3
East of North Zone
Geotechnical
including
34.5
47.5
13.0
2.25
1.52
HQ3
Figure 1: Drill Hole Location Map - Spanish Mountain Gold Project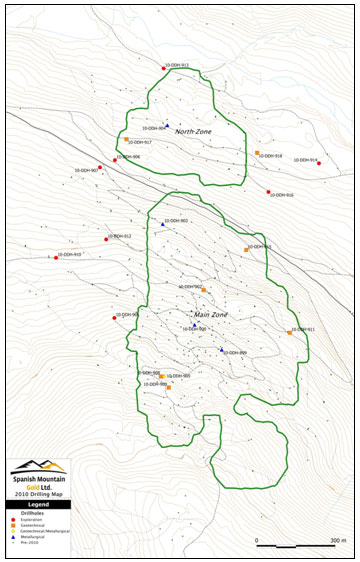 Click to Enlarge