Gold System Now Extends East Beyond Defined Soil Geochemical Gold Anomaly
Spanish Mountain Gold Ltd. ("the Company") (SPA-TSXV) is pleased to announce assay results received from seven NQ diamond drill holes completed on its Thunder Ridge Gold Project in southern central British Columbia. A total of 1,797 meters of drilling was completed with hole depths ranging between 203 and 368 meters. Three of the drill holes defined and further explored the eastward extent of the vein systems on the northern portion of the property. Specifically, Hole 10-SC-025, which intercepted 0.77 g/t gold over 6.6 meters, demonstrates the continuance of the vein system 270 meters to the east of the defined soil geochemical gold anomaly. The remaining four holes tested the continuity of the veins previously drilled on the southern limits of the explored ground. As in other drill holes completed in prior years' programs, anomalous silver was intercepted in these core samples.

Highlights of Drilling Results include:
Hole 10-SC-31 intersected 0.77 g/t gold over 54.0 meters with an interval of 19.15 g/t gold and 83.80 g/t silver over 1.0 meter.
Hole 10-SC-27 intersected 0.77 g/t gold over 20.0 meters with an interval of 1.97 g/t gold and 100.00 g/t silver over 1.0 meter.
Hole 10-SC-25 intersected 0.77 g/t gold over 6.6 meters.
New extension to gold system suggests exploration potential in areas lacking geochemical signatures
Significant assay results are contained in the table (Table 1) appended to this news release. A map (Figure 1) showing the locations of the drill holes completed during the current program, along with previously completed holes, is also presented.

The gold mineralization, as defined by a large surface soil geochemical gold anomaly, is associated with quartz veins. The soil anomaly trends southwest to northeast over 1.5 kilometers (km) and is 500 to 600 meters wide. The quartz veins dip to the northeast. The vein system remains open to the north, south and at depth to the east. The current results confirm previous observations that the gold system extends east beyond the defined soil geochemical gold anomaly.

The Thunder Ridge Project is located 50 km northeast of the town of 100 Mile House in central British Columbia and is approximately 100 km south of the Company's flagship Spanish Mountain property. The Company has completed thirty-one holes to date on the project for a total of 8,221 meters. The property is in a sequence of Triassic black phyllite and siltstone, similar to those at the Spanish Mountain gold deposit. Gold mineralization is associated with quartz veins, wall rock silicification, pyrite and sphalerite.

All core samples were fire assayed at ALS Chemex Laboratory in Vancouver, BC. Stuart Morris, P. Geo, the Company's Vice-President, Development Geology is a qualified person as defined under National Instrument 43-101 and has reviewed the contents of this news release.

About Spanish Mountain Gold

Spanish Mountain Gold Ltd is focused on developing its flagship Spanish Mountain gold project in central southern British Columbia. The National Instrument 43-101 compliant resource estimate released in 2009 documented that 3.9 Million oz Au are contained (at a 0.30 g/t Au cut-off grade) in the measured and indicated resource categories. The Company has no debt and owns 100% of all four gold properties located in British Columbia. Additional information about the Company is available on its website: www.spanishmountaingold.com

On Behalf of the Board,
SPANISH MOUNTAIN GOLD LTD

Brian Groves,
President

Contact:

Bill Gillies
(604) 601-3651

or

B&D Capital Partners
(604) 685-6465

This news release contains forward-looking information, which involves known and unknown risks, uncertainties and other factors that may cause actual events to differ materially from current expectation. Important factors - including the availability of funds, the results of financing and exploration activities, the interpretation of drilling results and other geological and metallurgical data, risks associated with the estimation of mineral resources and the geology, grade and continuity of mineral deposits, project cost overruns or unanticipated costs and expenses -- that could cause actual results to differ materially from the Company's expectations are disclosed in the Company's documents filed from time to time on SEDAR (see www.sedar.com). Forward-looking statements can often be identified by the use of words such as "plans", "expects", "is expected", "scheduled", "estimates", "forecasts", "intends", "anticipates" or "believes" or variations (including negative variations) of such words and phrases. Readers are cautioned not to place undue reliance on these forward-looking statements, which speak only as of the date of this press release. The company disclaims any intention or obligation, except to the extent required by law, to update or revise any forward-looking statements, whether as a result of new information, future events or otherwise.

The TSX Venture Exchange does not accept responsibility for the adequacy or accuracy of this release.
Table 1: Significant Assay Results - Thunder Ridge
Drill Hole
From
To
Length (m)
Gold (g/t)
Silver (g/t)
10-SC-025
183.0
189.6
6.6
0.77
2.74
10-SC-026
42.0
48.5
6.5
0.45
1.84
10-SC-026
58.0
61.5
3.5
0.69
2.56
10SC027
23.2
24.1
0.9
2.06
4.50
10SC027
40.0
43.3
3.3
0.63
2.30
10SC027
221.0
241.0
20.0
0.77
19.76
includes
239.0
240.0
1.0
1.97
100.00
10SC028
no significant intercepts
10SC029
39.8
41.5
1.7
3.74
19.80
10SC029
71.0
76.0
5.0
1.11
1.99
includes
74.6
76.0
1.5
3.45
2.50
10SC030
50.5
58.1
7.6
0.57
1.89
includes
52.0
53.0
1.0
2.05
2.50
10SC031
43.0
97.0
54.0
0.77
4.54
includes
44.0
45.0
1.0
19.15
83.80
includes
47.5
49.7
2.2
2.2
19.48
includes
82.7
86.0
3.3
1.99
3.24
Figure 1: Locations of Completed Drill Holes (Gold Grades Indicated) - Thunder Ridge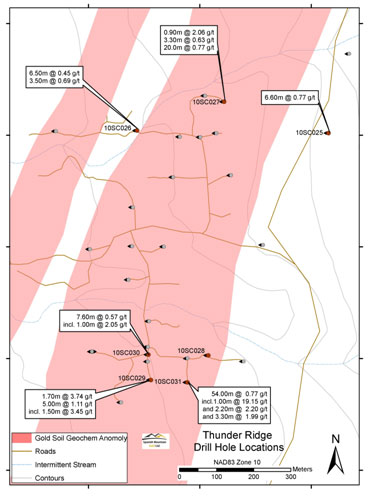 Click to Enlarge