A Large and Growing Gold Resource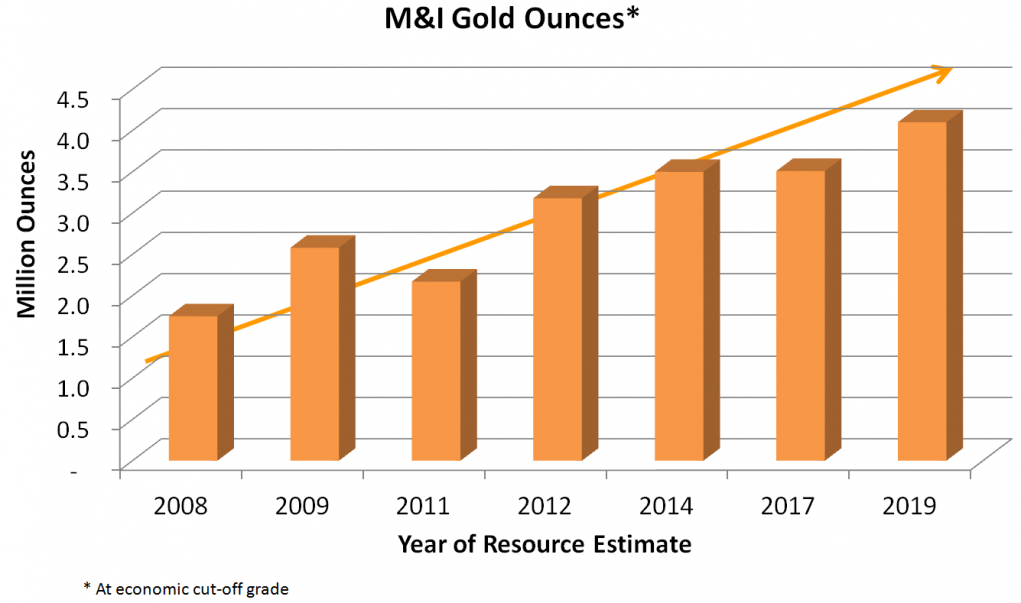 The PEA has established mineral resources within a constraining pit using an economic cut-off of 0.15 g/t Au (based on assumptions of operating costs for a potential pit operation) as follows:
Resource Category

Tonnage
(Million)
Gold Grade
(g/t)
Gold
(Million oz.)
Measured Resource
30
0.60
0.6
Indicated Resource
244
0.46
3.6
Measured plus Indicated Resources
273
0.47
4.1
Inferred Resource
53
0.37
0.6
Notes for the Mineral Resources and PEA Mine Plan:
The Mineral Resource Estimates were prepared by Sue Bird, P.Eng. (who is also the independent Qualified Person for these Mineral Resource Estimates), in accordance to the 2014 Canadian Institute of Mining, Metallurgy and Petroleum ("CIM") Definition Standards for Mineral Resources and Mineral Reserves, with an effective date of October 10, 2019.
The Mineral Resource Estimates are reported at a cutoff grade of 0.15 g/t.
Cut-off grade assumes US$1,275/oz. Au at a currency exchange rate of 0.75 C$ per US$; 99.8% payable gold; $4.00/oz. offsite costs (refining and transport), a 1.5% royalty; and uses a 91% metallurgical recovery.  The cut off-grade covers processing costs of $5.00/t and general and administrative (G&A) costs of $2.25/t.
The Mineral Resources are constrained by an open pit shell generated by applying the Lerchs-Grossman algorithm to the Spanish Mountain deposit. The pit shell was generated using the same inputs as the cutoff grade determination, as well as a $2.20/t mining cost.  Overall pit slope angles range from 20 degrees to 43 degrees and are estimated based on geotechnical analysis of various zones in the deposit.
The PEA Mine Plan and Mill Feed estimates are a subset of the October 10, 2019 Mineral Resource estimates and are based on open pit mine engineering and technical information developed at a Scoping level for the Spanish Mountain Gold deposit.
PEA Phase 1 Mine Plan and Mill Feed estimates are mined tonnes and grade, the reference point is the primary crusher.
Mining recovery of 97% and external mining dilution of 10.9% at 0.34 g/t Au grade is applied in addition to the modelled in-block dilution.
Factors that may affect the estimates include: metal price assumptions, changes in interpretations of mineralization geometry and continuity of mineralization zones, changes to kriging assumptions, metallurgical recovery assumptions, operating cost assumptions, confidence in the modifying factors, including assumptions that surface rights to allow mining infrastructure to be constructed will be forthcoming, delays or other issues in reaching agreements with local or regulatory authorities and stakeholders, and changes in land tenure requirements or in permitting requirement. Any other known legal, political, environmental, or other risks that could materially affect the potential development of the Mineral Reserves are detailed below in the section entitled "Forward-Looking Statements".
Estimates have been rounded and may result in summation differences.
Mineral resources, which are not mineral reserves, have a great amount of uncertainty as to their existence and do not have demonstrated economic or legal viability. Inferred mineral resources have insufficient confidence to allow the meaningful application of technical and economic parameters or to enable an evaluation of economic viability suitable for public disclosure.
Cautionary Note Regarding Preliminary Economic Assessment
Preliminary Economic Assessment is preliminary in nature and may include measured and indicated mineral resources as well as inferred mineral resource.  A measured or indicated mineral resource is that part of a mineral resource for which quantity, grade or quality, densities, shape and physical characteristics are estimated with sufficient confidence to allow the application of Modifying Factors in sufficient detail to support mine planning and evaluation of the economic viability of the deposit. An inferred mineral resource is that part of a mineral resource for which quantity and grade or quality are estimated on the basis of limited geological evidence and sampling.  Geological evidence is sufficient to imply but not verify geological and grade or quality continuity. Mineral resources are not mineral reserves and do not have demonstrated economic viability.  There is no certainty that the PEA will be realized.
The PEA referred herein was prepared by Moose Mountain Technical Services (MMTS) under the direction of Marc Schulte, P. Eng., a Qualified Person (as defined under National Instrument 43-101) who is independent of the Company.